Welcome Message
After a huge success and blockbuster accomplishment of the "2nd International Conference on Industrial Biotechnology and Bioprocessing" on June 12-13, 2019 at Edinburgh, Scotland. We at the AAC group proudly announce the "3rd International Conference on Industrial Biotechnology and Bioprocessing" during the month of February 17-18, 2020.
We would like to honour and appreciate the Industrial Biotechnology 2019's Keynote speakers, session speakers, session organizers, chairs of the session and all the attendees without whom the efficacious achievement of the event was not possible.
Through a series of plenary sessions, workshops and breakout sessions, Industrial Biotechnology 2020 will provide a rigorous review of novel therapies, bio-products as well as report on the very latest findings in industrial biotechnology and bioprocessing research.
AAC group extends a very warm welcome to the eminent speakers, biotechnologists, researchers, and all the symposiast around the world to join our forthcoming 3rd International Conference on Industrial Biotechnology and Bioprocessing on Feb 17-18, 2019 at Paris, France. We would love to see you and learn more about your specialization and to explore more on "Reconnoitring newest Novelties and expertise in Industrial Biotechnology"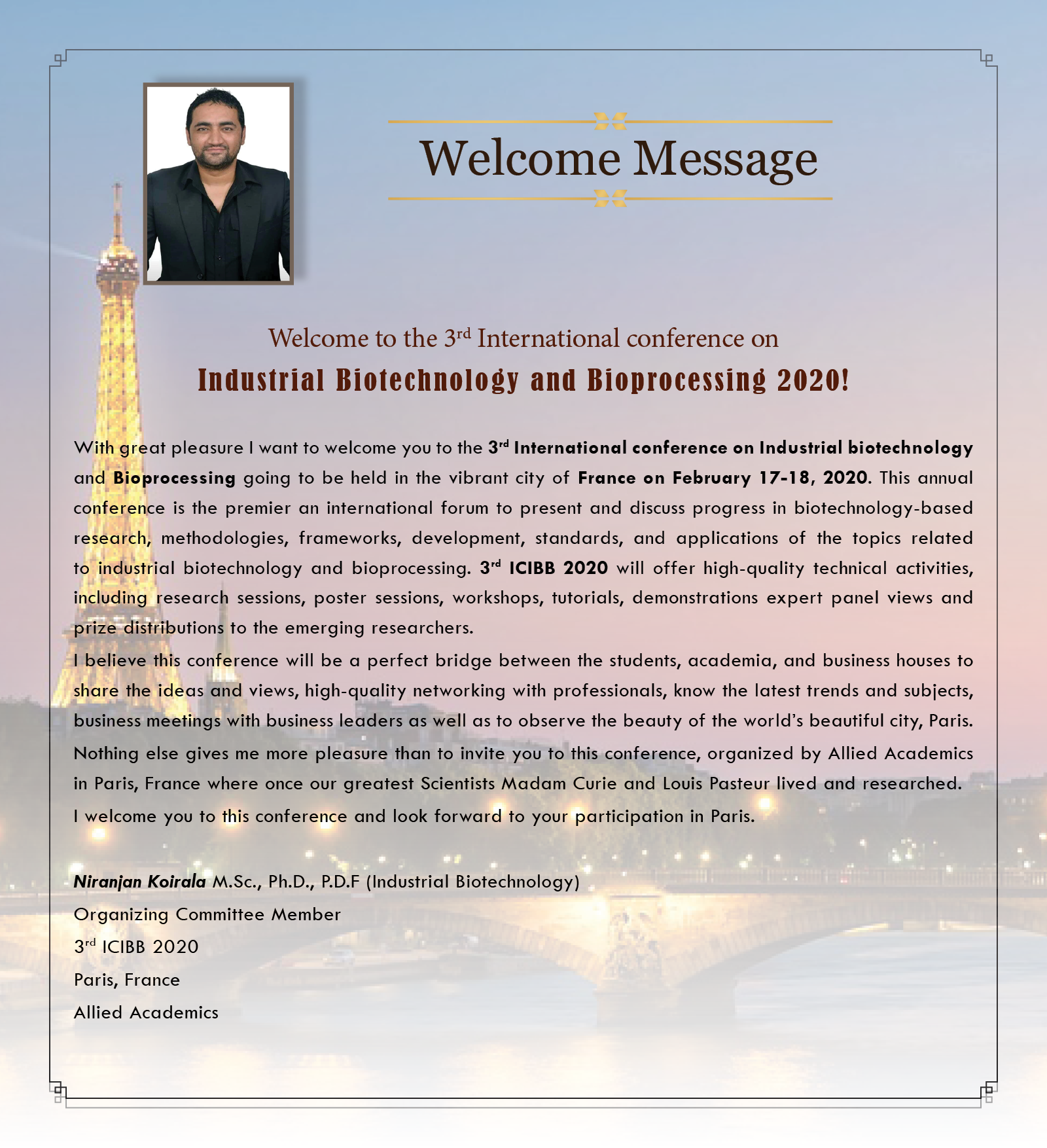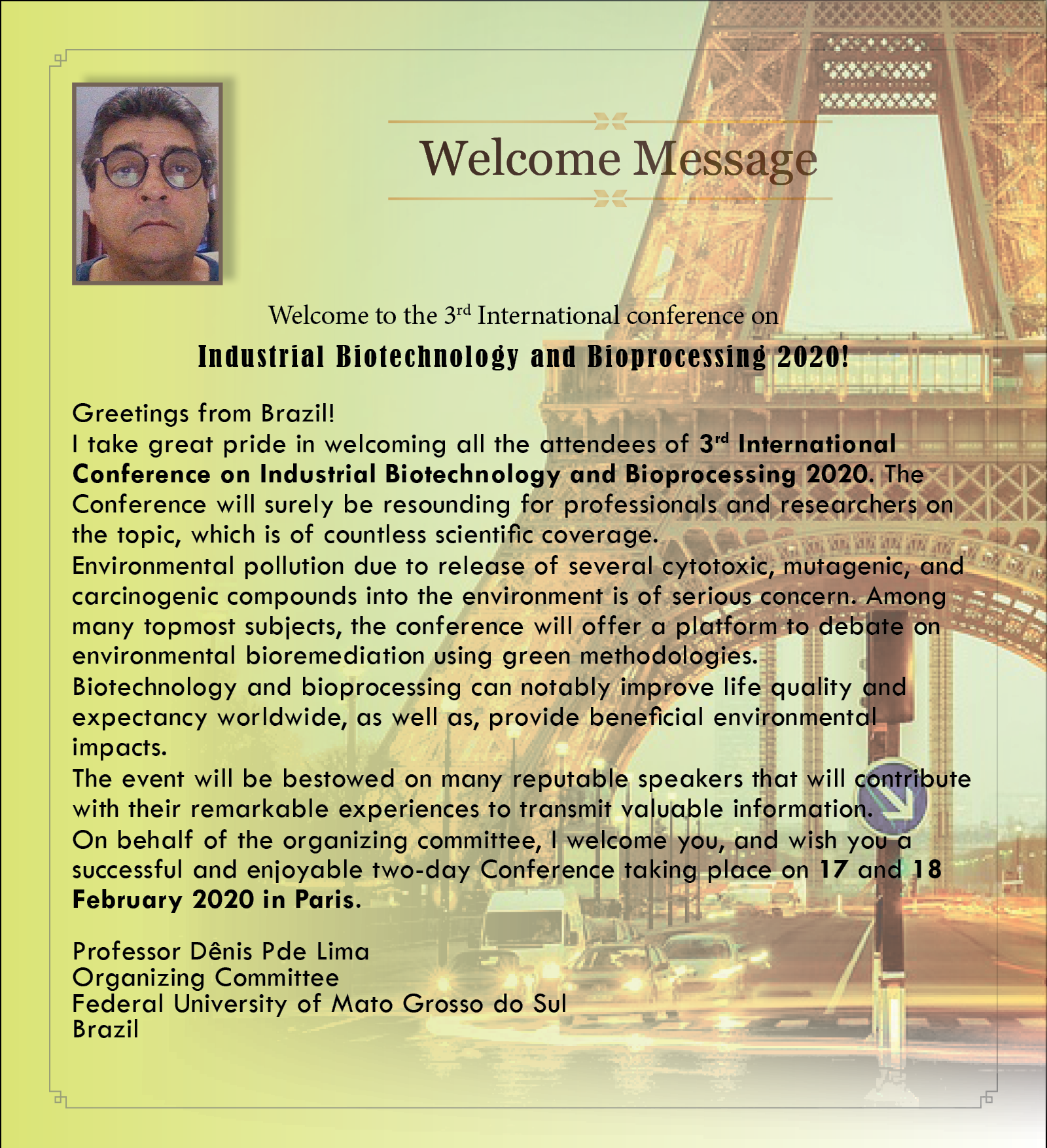 Sessions/Tracks
Industrial Biotechnology which is also known as "White biotechnology" is one of the most favorable processes/methods to control most of the serious issues of modern industry. Enzymes and micro-organisms are used to make products that are bio-based in sectors like chemicals, food and feed, detergents, paper and pulp, textiles and bioenergy. This session will include the recent advances and research which enables to use renewable raw materials and can contribute to lowering greenhouse gas emissions and stirring away from a petrochemical-based economy.
Bioprocessing is used as a very essential tool for the rapid conversion of bioproducts from the research laboratory to commercial products. And the aim of practising bioseparation is to cleanse molecules, cells, and parts of cells into purified fractions. This can be used to explore and to enhance the speed in the discovery of bioprocesses application for the manufacture at a scale of next-generation commodity of industrial biotechnology. This session will focus on the latest innovations and new techniques that will lead to biomanufacturing industries for a better circular bioeconomy.
The application of genetic engineering techniques to enzyme technology is the most exciting innovation over the last few years. The yield and kinetics of the enzyme, the ease of downstream processing and various safety aspects may be improved or altered to make the enzyme more efficient. It will help to determine the specific product and pathways for reactions to occur and to convert from some certain compounds into biotransformation.
Session on: Biobased products:

Bioproducts or bio-based products are products made with some constituent of biological or renewable materials. It involves all the processes, starting from raw material production through the processing stages to the synthesis of end products, in addition to research, development and commercialization processes. The developing bioeconomy offers the potential to contribute significantly to the overall economies across the world. Also, bio-based product research& development can offer economic, environmental and health benefits.
Biocatalysis can be explained as the use of natural products like one or more enzymes or cells to speed up (or catalyze) chemical reactions. By switching to biocatalysis as the main technology for chemical production, it will lead to green, reduces pollution and cost, and help towards bioeconomy. Biocatalysis will help in increasing the ability to use enzymes to catalyze chemical reactions in
industrial biotechnology.
Biomaterials play an important role in the medicine industry today mainly in restoring function and facilitating wound healing for people after injury or disease. The recent advances of biomaterials combine medicine, biology, physics, and chemistry, and more recent fields are from tissue engineering and materials science. Biomaterials found their application in various fields like in dental applications, surgery, and drug delivery.
Bioenergy and Biorenewables offer a solution for the production of renewable energy from biodegradable sources, such as wastes from municipal, food, agricultural and biomass. The report says that bioenergy constitutes the majority (65%) of the EU'srenewable energy mix. The use of biomass energy can minimize our greenhouse gas emissions it's feedstocks can also help in making profits for the agricultural industry.
Bioreactor designing plays a vital role in the functioning of bioprocess mainly for upstream processing. Design and choice of the proper bioreactors is influenced by the nature of cells, engineering conditions, as well as economic and ethical considerations. To commercialize the product from laboratory scale to industrial scale, scaling up of the bioreactor is very important. The success of the process hinges, to a limit, on ensuring the designing aspects in bioreactor and the operational procedures.
Plastic is very commonly used petroleum derivative in the world and report says that each year 200 million tons of plastic are utilized/consumed by the living beings on Earth. As a substitute the use of bioplastics is being encouraged, which is 100% biodegradable, equally flexible to plastics, and the usage of biopolymers are already becoming famous in cities of Europe and the United States for ecological reasons. Poly-hydroxyalkonates.
The objective of synthetic biology is to make biology convenient to engineers. Synthetic biology is the mixture of innovations in biology and computer science that validate us to go from idea to product faster, cheaper, and with greater precision than ever before. It has applications in areas as diverse as industrial biotechnology, health, agro-industries and conserving ecosystems.
Hereby regenerative medicines we mean the bioprocess engineering area of stem cell tissue engineering including scale-up and scale-down. In the "whole bioprocessing" aspect, the complete process starting from a donor or patient biopsy through to clinical insertion into the patient. Regenerative medicine and tissue engineering are one of the fastest-growing area of research in industrial biotechnology.
The Agri-food industry has a significant role to play in industrial biotechnology, the motive of which is to feed populations, mostly through a chain of market relationships. The food system within the agri-food industry varies by country. Techniques like genetic engineering, molecular markers, molecular diagnostics, vaccines, and tissue culture, is utilized by agricultural science to alter the genes in living organisms including plants, animals, and microorganisms.
Session on: Marine biotechnology:
Marine Biotechnology or blue economy is securing industrial products and processes by synthesizing proteins and enzymes and can also support new process innovation in the pharmaceutical and food industries or in molecular biology and diagnostic kits. The new applications of marine-derived enzymes are found to be in the beauty industry and the use of algae and microalgae in biofuel production.
Session on: Cell therapy bioprocessing:
Cell therapy bioprocessing activity is to make the research experts empower the safe, clinically useful and affordable production of cell therapies into commercial end products to be delivered to the patients. Current research is towards manufacturing new cell and bioprocess engineering tools to enhance the efficiency and techniques for health technology assessment to support the rapid clinical adoption of new cell therapies.
Session on: Algal Technologies:
Algae are the 'green gold' of the future bioeconomy as they became a valuable and sustainable feedstock for numerous industries contributing to the bio-sustainability. Their application varies from biofuels, food additives, animal feed, novel food, bioplastics, cosmetics, biofertilizers or CO2 utilization and many more. The market is rapidly expanding, and it is still not reached its full potential. Scientists are working on new technologies and cost optimization to scale up pilot projects to industrial production for a better green and clean future.
A treatment management system that uses natural organisms to remove or neutralize pollutants and convert into less toxic or non-toxic substances. For a successful and effective bioremediation, the system needs a correct balance of the favorable temperature and nutrient content. It is a cost-effective method when compared to other clean up techniques, as it does not need a great deal of equipment or labor.
One of the most prominent sectors in the industrial world is "biotechnology". Today, the focus is to improve the efficacy and robustness of microbial cell factories, suitable for industrial production of products in the health industry and others. Strain engineering is to be done to improve the existing either by mutagenesis or advanced targeted methods. If industrial biotechnology is used to its full potential, it would be the best tool towards a sustainable bioeconomy.
A circular economy focuses to redefine growth, aiming at positive public benefits. It avails gradually decoupling economic activity from the consumption of finite resources and designing waste out of the system. Bioeconomy is understanding mechanisms and processes at the genetic and molecular levels and applying this understanding towards global sustainability.
Related: Industrial BiotechnologyConferences | Industrial Biotechnology and bioprocessing Conferences | Biotechnology Meetings | Bioprocessing Events | Bioenergy Conference
Related Societies and Association:
Europe: Young European Biotech Network(YEBN), European Federation of Pharmaceutical Industries and Associations (EFPIA), European Bio-pharmaceutical enterprises (EBE), Biotechnology Industry Organization (BIO), European Association of PharmaBiotechnology (EAPB), DANSKBIOTEK, Danish Biotechnology Society, Novo Nordisk Foundation Center for Bio sustainability, Bio-Business and innovation platform, Irish Bio-Industry Association (IBIA).
USA: Biotechnology Innovation Organization (BIO), Bioindustry Association, Swiss Biotech Association, Massachusetts Biotechnology Council, Association of Biotechnology LedEnterprises (ABLE), Illinois Biotechnology InnovationOrganization (bio), Society for Industrial Microbiology and Biotechnology (SIMB).
Asia- Pacific: Asian Federation of biotechnology (AFOB), Federation of Asian Biotech Association (FABA), Bio-Asia
Market Analysis
USA: It's been reported by Ernst & Young, that last year's sales of$13.4 billion and revenues of $18.6 billion is a lot more than the previous two decades' figures. This year, the industry has recruited more than 153,000people in the United States. Last year, American biotechnology industries have invested $9.9 billion on R&D.

Asia-Pacific: The Asia-Pacific biotech market has expanded with a compound annual growth rate (CAGR) of around 16% during2010-2012. It has been found that Japan and China are controlling this industry, while countries like Malaysia, India, and Singapore are also in the limelight and are looking forward to dominating around 70% of the global market.

Europe: A prosperous bio-based European economy is mainly because of the industrial biotechnology sector and more than 60% of the world's enzymes, has been produced, thus making Europe, a world leader in the industrial biotechnology
field. The major countries in the European Union that came up in this sector included Denmark, Germany, Netherlands, France, UK, and Sweden

Why France?
Industrial Biotechnology research in France is ranked third in the world. Earlier this month, France Biotech, which represents life science entrepreneurs, released its 16th"French HealthTech Survey," which that showed the transformation of the French biotech environment over the past decade has grown to include more than 1,800 companies with abroad focus on multiple aspects of the healthcare space. According to the survey, France's life science industry includes 720 biotech companies, 73biocleantech companies, 886 companies specialized in medical devices and diagnostics and 200 companies focusing on eHealth. The latest survey shows that more than half of these companies, 53 percent, employ one to 10 employees. Also, many of these companies have sprung into existence over the past several years. According to the survey, 41 percent of the companies are less than five years old.
Why Paris?

The capital city is a center for research in biotechnology as much as it is the hub for fashion. Being an impressive blend of both worlds, Paris offers a great platform to host biotechnology conferences owing to a large number of internationally applauded research institutes and universities. Its state-of-the-art laboratories covering all scientific disciplines makes Paris a very favorable destination for technical summits and conferences.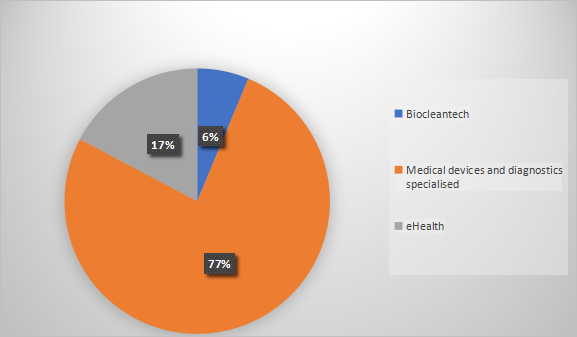 Growth of Biotech Industries in France
The figure for firms is a solitary method to rank industrial biotech by country, although disbursements in research and growth are additional. The United States outspends its adjoining competitor, France, by eight to one, at nearly $27 billion to a little over $3 billion in 2012. The other big payors are Switzerland, Korea, Japan, Germany, and Denmark at allover one billion dollars. France is growing rapidly in terms of biotech industries. A huge growth can be seen in the progress graph. You can see the growth in the following graph.

Top biotech company in France

:
NOVARTIS

SANOFI

PFIZER

MERCK & CO

MYLAN

ROCHE

SERVIER

GILEAD SCIENCES

JANSSEN-CILAG

ASTRAZENECA

GLAXOSMITHKLINE
Place of Attraction
Paris, also known as the "City ofLight" has enormous attractions to make your tour unforgettable. We are discussing top 8 places of attractions in Paris.


Eiffel Tower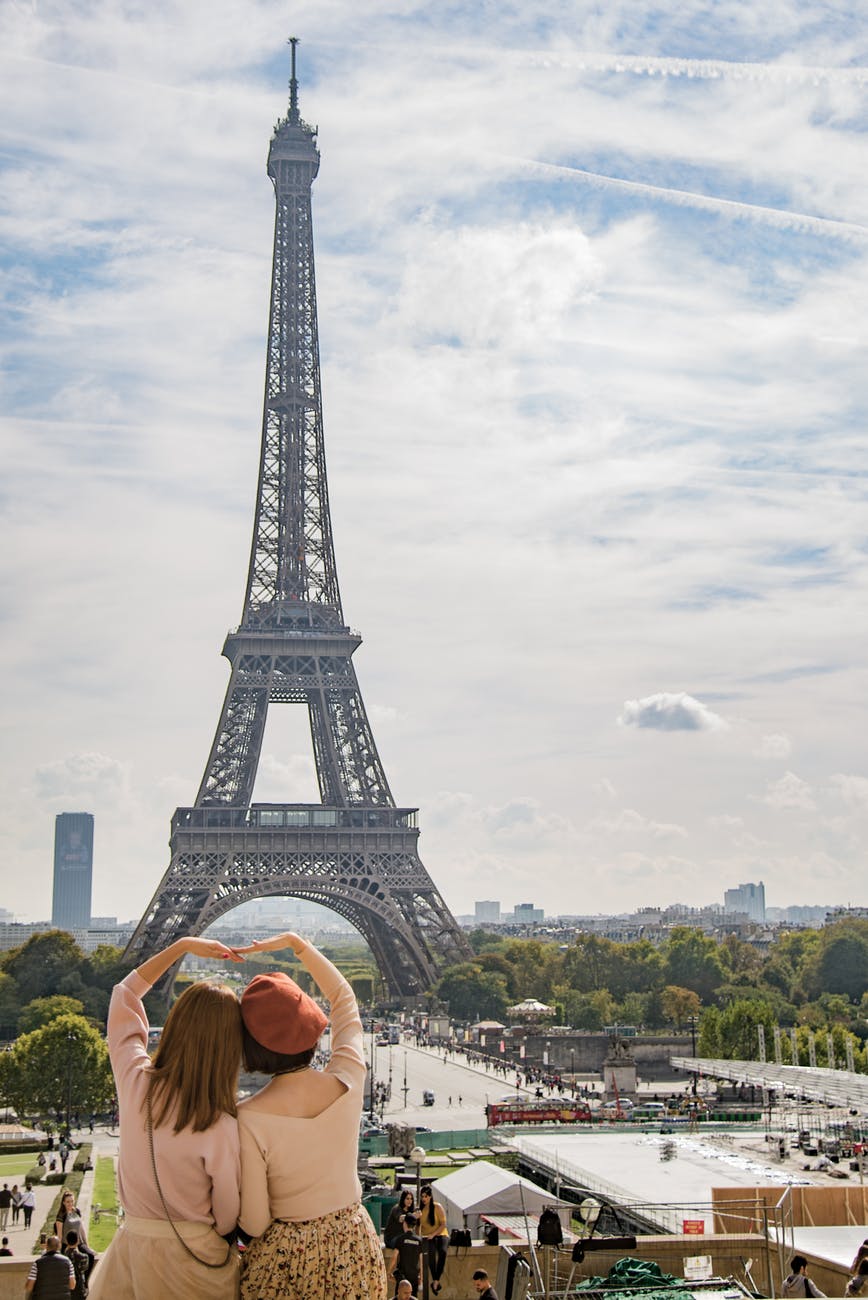 The first thing that strikes your mindafter hearing Paris is The Eiffel Tower.
It was built by Gustave Eiffel tocelebrate the era of the French Uprisings. Height of this tower is 324 meters and it is among the most visited monuments in the world with every year approximately 7 million visitors.
The first floor is known as the EiffelTower 58 because of its height from the ground. The best sight can be seen fromthe second floor while diving. But the 3rd floor will surprise you with theamazing Gustave Eiffel's office view.
The second most enduring place isNotre – dame de Paris, which is often known as Notre Dame. It is consideredglobally as one of the optimum instances of French Gothic architecture inEurope. The river Ile de la Cite increases the beauty of this cathedral.
Construction of the Notre Dame wasbegun in 1163 and was completed in 1345. This cathedral is a view with itsgateways surrounded by many sculptures and gargoyles that ornament the roof.


Louvre Museum
The most visited art museum in theworld resides in the heart of Paris. Louvre Museum is a former royal palacewith a boundary of approximately 210,000 square meters. This museum containsthe remains of the fortress that was built in the 12th century under the kingPhilip II.
Different departments of Louvre Museumare:-
· Egyptian antiquities
· Oriental antiquities
· Greek, Etruscan and Roman
· Islamic Art
· Sculptures of the Middle Ages,Renaissance and Modern Times
· Objects of art
· Paintings
· Graphic arts
Arc of Triumph
Arc of Triumph was built in the 19thcentury dedicated to the glory of the imperial armies. This largest monumentwas commissioned by Napoleon. The pillars of the monument are garnished byastonishing sculptures.
On the top of the arc, names of 558Generals and the great victories of Romans are engraved. And Tomb of Unknownsoldiers can be seen under the Arc de Triomphe. A very beautiful view of Pariscan be observed upon the terrace of the door.


Cruise on the Seine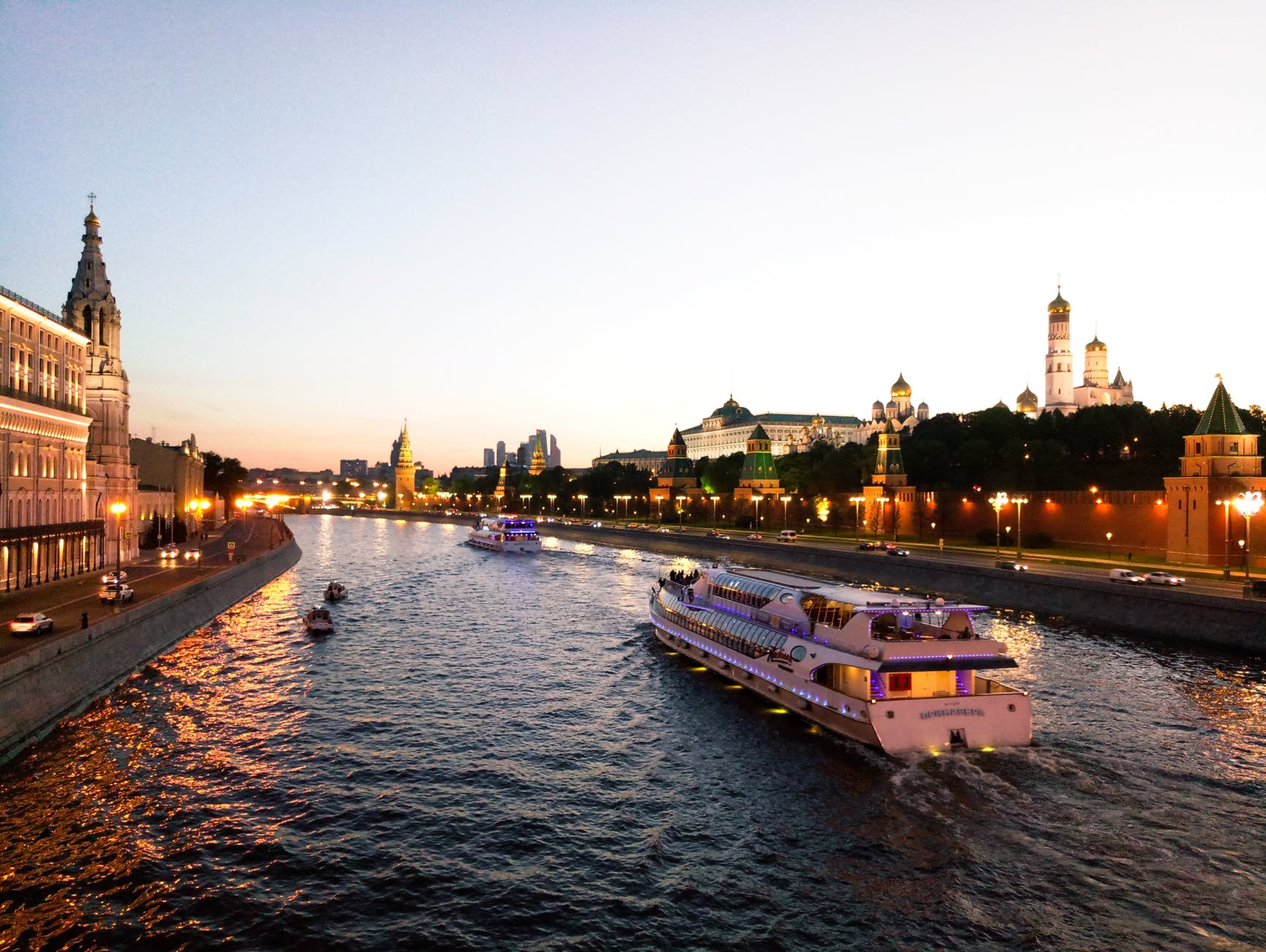 The "City ofLight" can be better visited by enjoying a cruise on the river Seine duringnight. After the sun set, all the monuments are lit slowly. A panoramic view tothe forefront is observed, therefore, you can feel the beauty of Paris i.e.,Eiffel Tower, Notre Dame, Pont Alexandre III and many more.
Montmarte
In theNorthern of Paris, a hill known as Montmartre is located which is 130 metershigh. This hill is best seen for the white-arched Basilica of the Sacred Heart,at the top.


Palaceof Versailles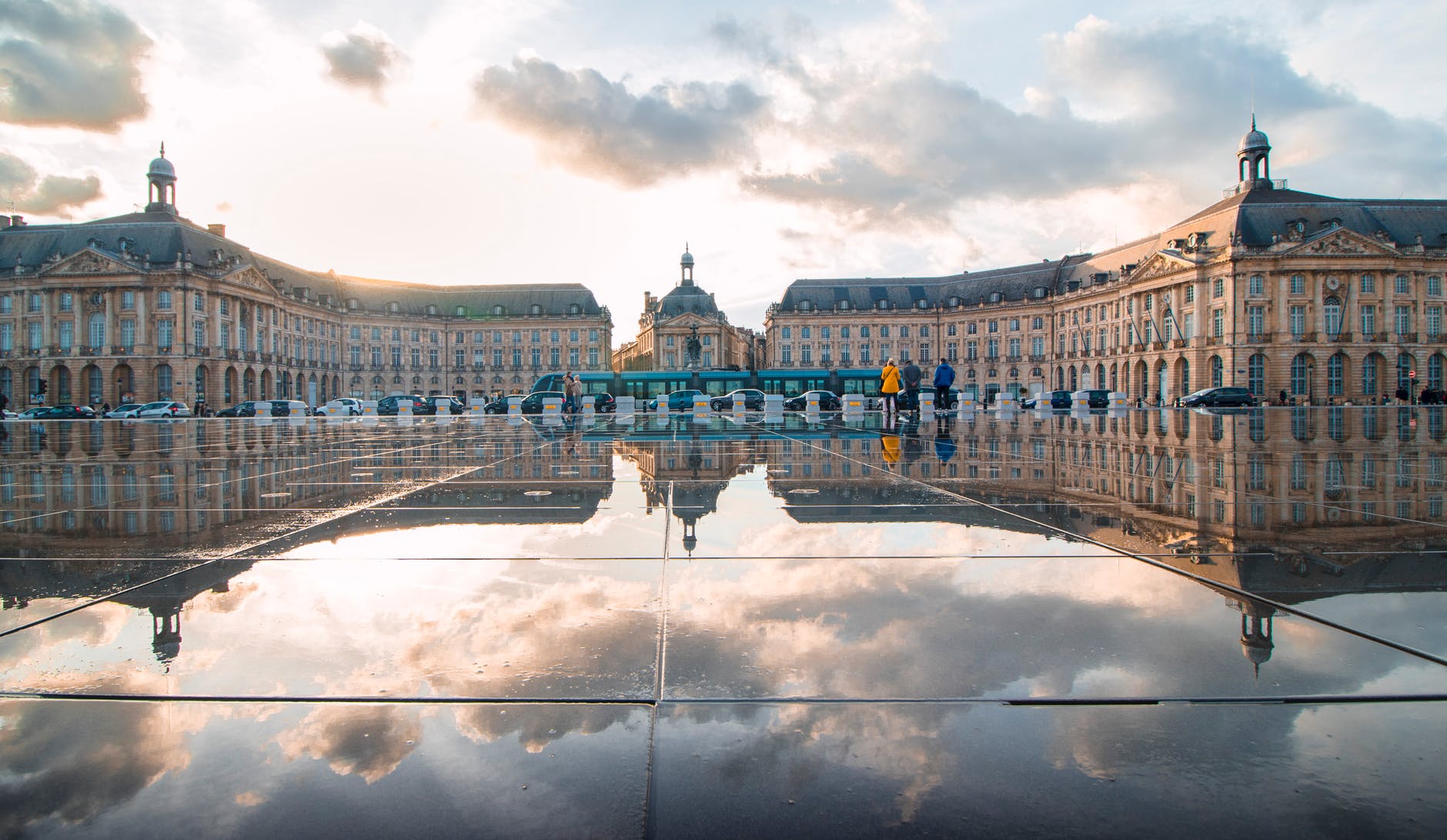 One of the most famous castles inFrance is Palace of Versailles. It was built in the 17th century asa symbol of military power of France. This enormous complex of buildings, lawnsand patios is undeniably a must for any sightseer who will be captivated byexcellent accommodations, lavish embellishments, furniture and golden works ofReawakening art.


Moulin Rouge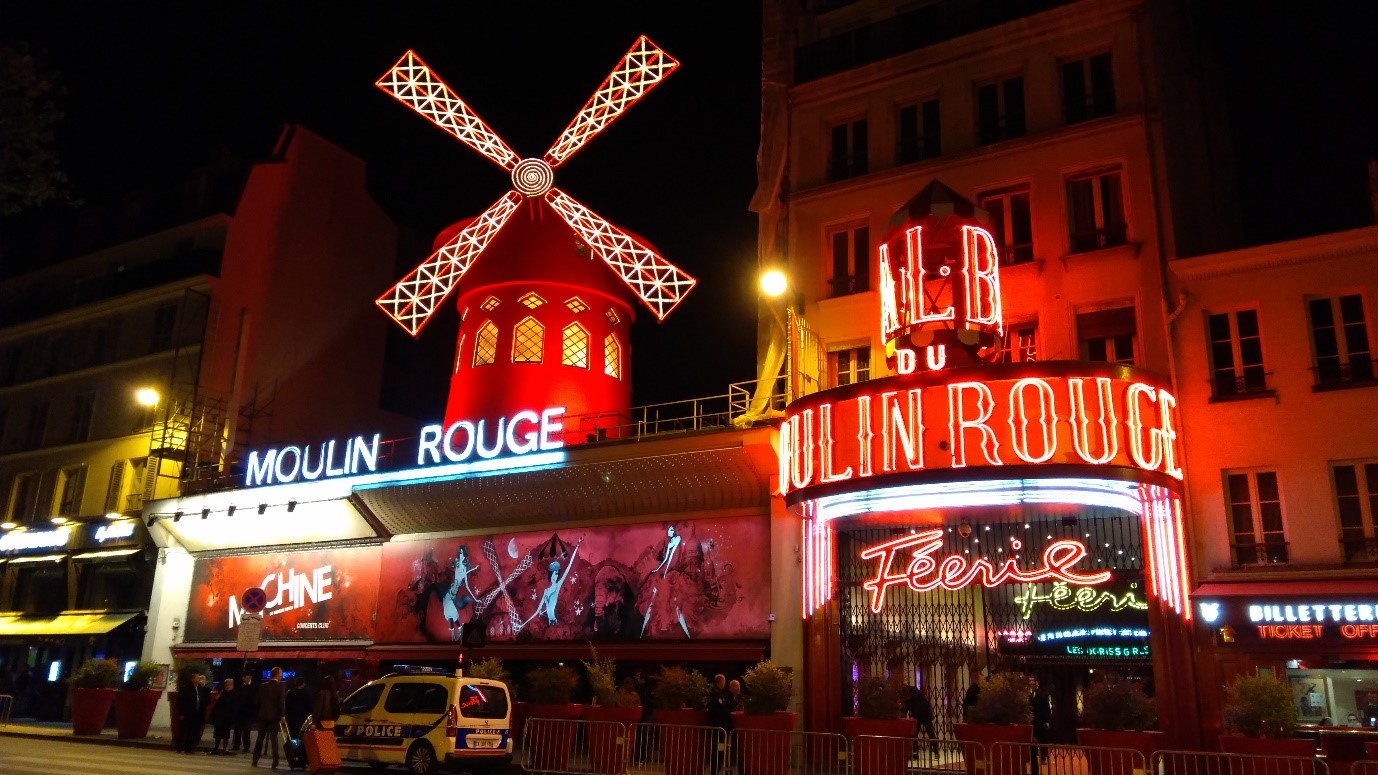 The Moulin Rouge is a burlesque knownas the divine origin of the legendary French Cancan. Established at the base ofMontmartre hill in the soul of Pigalle, it was constructed in 1889 by JosephOller and Charles Zidler. Initially launched as a courtship dance, the cancanmade viable the birth of the burlesque, now present in many nations around theworld. Today, the Moulin Rouge is a sightseer charm, offering entertainment fortourists from across the globe.